FNEEQ-CSN – Info-Négo #11
WHAT IS THE VALUE OF OUR EMPLOYER'S WORD ?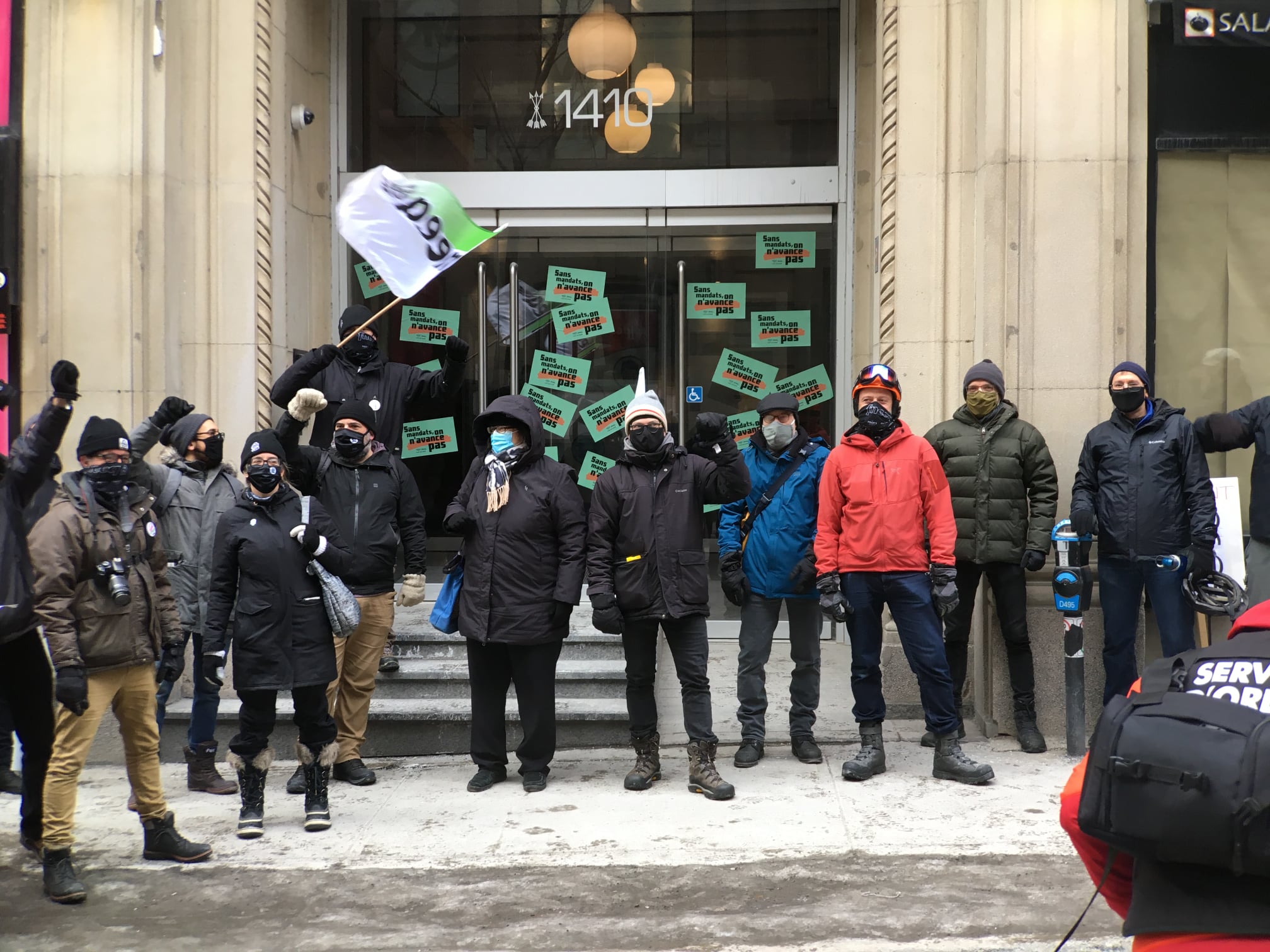 CPNC's Montreal offices – March 9th
We have been asking ourselves this question as we have born witness to a change in tone from the employer's side of the sectoral bargaining table. Since they backtracked on access to leave with deferred pay (sometimes called a sabbatical) for non-permanent teachers, our confidence in them has been shaken. Recent discussions have done little to reassure us. 
Academic freedom 
A recent exchange on academic freedom—a priority we have been working on for months—ended in yet another reversal by the employer.   
In December 2020, we submitted a draft text protecting our academic freedom, the fruit of much labour and many exchanges at the table—a few dating back to the very start of bargaining. At the time, the Comité patronal de négociation des collèges (CPNC) claimed to be satisfied with our proposal but for a few exceptions. Our text largely addressed their concerns while allowing us to meet our own objectives. We considered it the result of a collaborative effort. 
However, on the pretext of wanting to align our proposal with the FEC–CSQ's, the CPNC withdrew to draft a new text common to both CEGEP teachers' federations. Very recently, they tabled this draft and were met with shock. The CPNC distorted and gutted what we had submitted in December, subjecting our academic freedom to administrative prerogatives like strategic plans and institutional policies. Their draft does not even come remotely close to articulating the principles for which we stand; were we to accept it, it would make the collective agreement even more restrictive than it currently is. This is a worrisome change of tune by our counterparts, who had agreed with most of what we had previously put on the table. 
The CPNC is unwilling to listen 
Students with disabilities (EESHs) are also of great concern to us, and an issue for which we have noted discrepancies in the employer's position. As we demanded resources to provide better support for them, the CPNC asked us whether the allocation to teachers was appropriate and ought not instead be diverted to other categories of personnel. 
We see this as a tactic to stall talks despite the strength of our arguments, and to avoid finding solutions to a real and pressing issue: the learning conditions of our most vulnerable students. 
After more than 18 months, we have bargained enough to know that the dynamic has changed for the worse. With its backtracking and reversals, and with tactics such as those used in relation to students with disabilities, it's clear that the CPNC is no longer even listening. They say no without providing any explanation. They ask us to rework elements of our proposals and then scrap them without explaining their concerns.  
In short, the days of reasonable bargaining are behind us, and we now find ourselves in a position based on the balance of power. 
Their disregard has gone on long enough 
We are sorely disappointed. The sudden change on academic freedom is distressing: it exacerbates the CPNC's newfound fondness for stonewalling. This attitude disrespects the work we've accomplished so far, and it threatens the very possibility of good-faith negotiations (which we had enjoyed until recently).   
The coming weeks will be critical, and we will need to work to shift the balance of power in our favour as we face an unpredictable and inconsistent CPNC. Our mobilization efforts and strike votes must send a very clear message:
We will not back down.
Your bargaining and mobilization committee 
Joignez le groupe Facebook de la négociation !
Pour être au courant des derniers développements de la négociation, échanger avec des collègues ou nous partager vos activités de mobilisation.