FNEEQ-CSN – Info-Négo #12
Sectoral Agreement in Principle: An Overview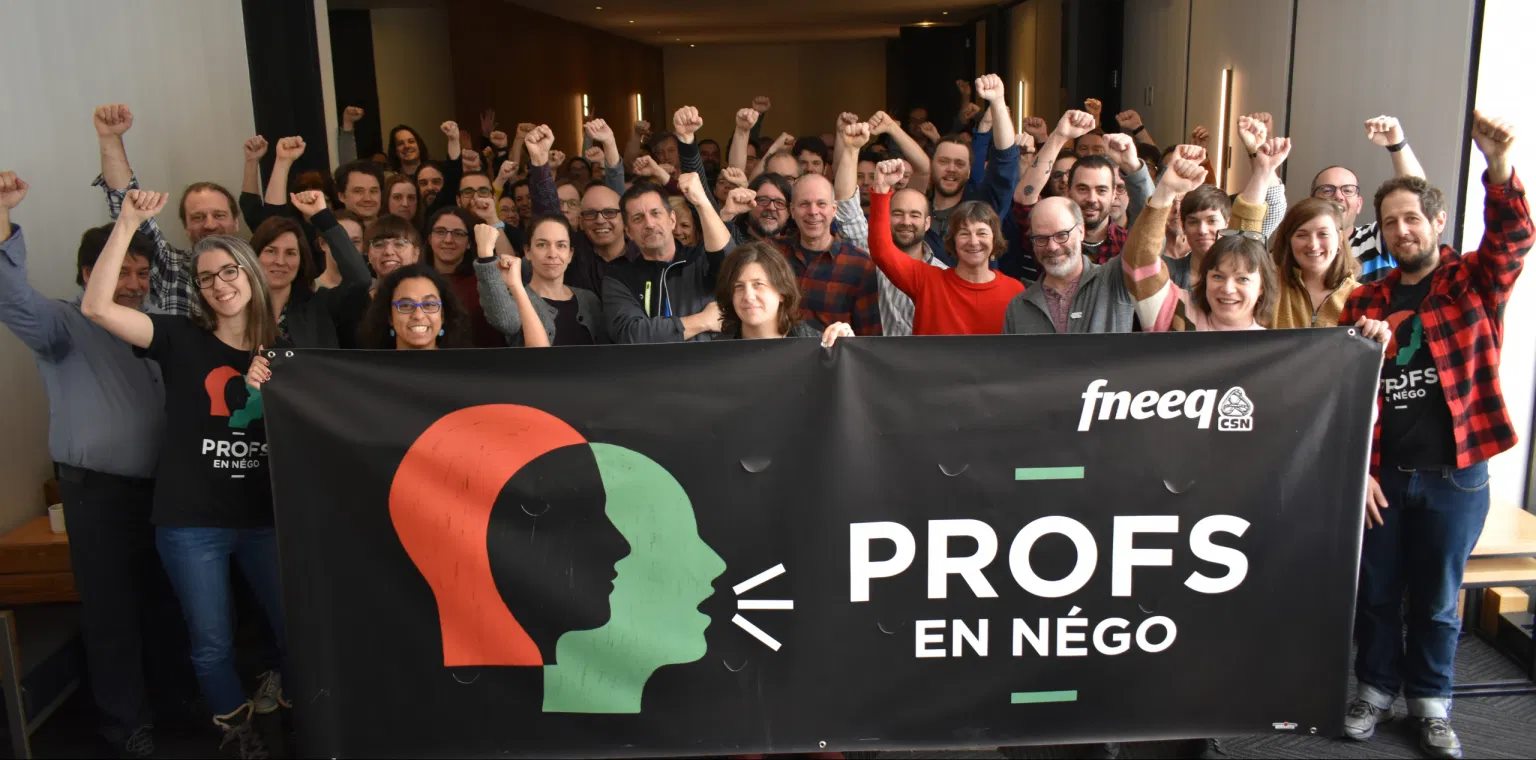 Regroupement cégep – February 2020
*** UPDATE (OCTOBER 18th 2021) *** : Click here for the initialled Agreement. For more details, please consult your local union.
This round of bargaining has stood out in several ways. We have had to face an unprecedented situation, to which we very quickly had to adapt. Bargaining and mobilizing during a pandemic has been a challenge for everyone. However, we took it on in stride and in solidarity, for the good of our network.
After over eighteen months of talks, we have reached an agreement in principle which will be presented in your general assembly at the start of the new school year. At that time, all details of the agreement will be on the table, and you'll be asked to judge whether it is acceptable.
In the meantime, we'd like to inform you of its broad strokes so that you know what to expect when you're consulted. For a complete picture, we invite you to take a look at the Info-Nego concerning the central table agreement in principle, which can be found here.
Continuing Education and wages
We made the working conditions of our Continuing Education teachers a core issue and brought it forward with determination at both the sectoral and central tables. Key advances were made to improve wages in this sector; we also believe the employer will no longer be able to dismiss or brush aside this issue in subsequent discussions.
The agreement in principle contains new pay scales based on experience, which will henceforth be recognized for all hourly-paid teachers. We obtained wage increases ranging from 19% to 34% between now and the end of the collective agreement, with special emphasis on the lowest earners—i.e., teachers with 18, 17, or 16 years or fewer of schooling (scolarité).
In addition, we wanted to ensure that working conditions in Continuing Education would become a genuine concern for the government. To that end, the agreement provides for the creation of an interim committee whose mandate—to be carried out before the next round of bargaining begins—commits the employer and the government to keep working on the Continuing Education question. This gives us a new opportunity to push the envelope even further.
Finally, concerning our demand for salary structure consistency in light of the restructuring obtained by elementary and high school teachers, we were able to secure increases to the first six steps of the salary scale for teachers in the regular sector.
Students with disabilities (EESHs)
We know it all too well: this student population has grown considerably over the past few years. A great deal of support is required, and we have always emphasized the importance of having dedicated resources for teaching staff. Despite the employer's initial closure to this idea, we managed to secure these resources by including them in our collective agreement. This is an important advance that will end the uncertainty related to the renewal of the sums in question. It's also important to note that we ensured a portion of these sums will generate positions (postes).
New resources for coordination
There will be new resources for so-called volet 2 purposes, specifically for program coordination, as well as for stages and workshop coordination in certain health-related technical programs (including nursing). The minister has also committed to reviewing the nursing program's funding.
Academic freedom
CEGEP teachers belong to higher education, yet our academic freedom (freedom in teaching, freedom in research and creation, and freedom of expression) has not been formally recognized. This warranted correction. Henceforth, academic freedom will be enshrined in our collective agreement.
More details to come during your general assembly
We would lastly like to highlight advances made for our colleagues at the Centre québécois de formation aéronautique (CQFA). This round of bargaining culminated in a wage catch-up—one that accounts for the very particular reality of these teachers and the requirements they must meet. 
In relation to job insecurity, we secured the creation of positions (postes) for all courses, including complementary and multidisciplinary courses. We also obtained a grace period during which non-permanent teachers may withdraw from an assigned workload without facing any consequences.
We are nearing the end of a long stretch. Your support and mobilization have made all the difference. The next step will be to vote on renewing our collective agreement according to the terms of the agreement in principle. General assemblies are crucial to the democratic process championed by unions: they are the lifeblood of our movement. We invite you to participate in yours when the time comes.
Let's keep moving forward
Together, we have carried our principles, values, and demands for the future of the CEGEP network with conviction. This round of bargaining brought to the forefront issues the government has all too often neglected. This is where they must remain, regardless of the electoral priorities of the day. Although important progress has been made on several fronts, we must continue our struggle to ensure that teaching conditions in the CEGEP network are appropriate and respectful of the work carried out by each and every one of us, each and every day.
Have a great summer!
In solidarity,
Your bargaining and mobilization committee
Joignez le groupe Facebook de la négociation !
Pour être au courant des derniers développements de la négociation, échanger avec des collègues ou nous partager vos activités de mobilisation.