Sectoral bargaining update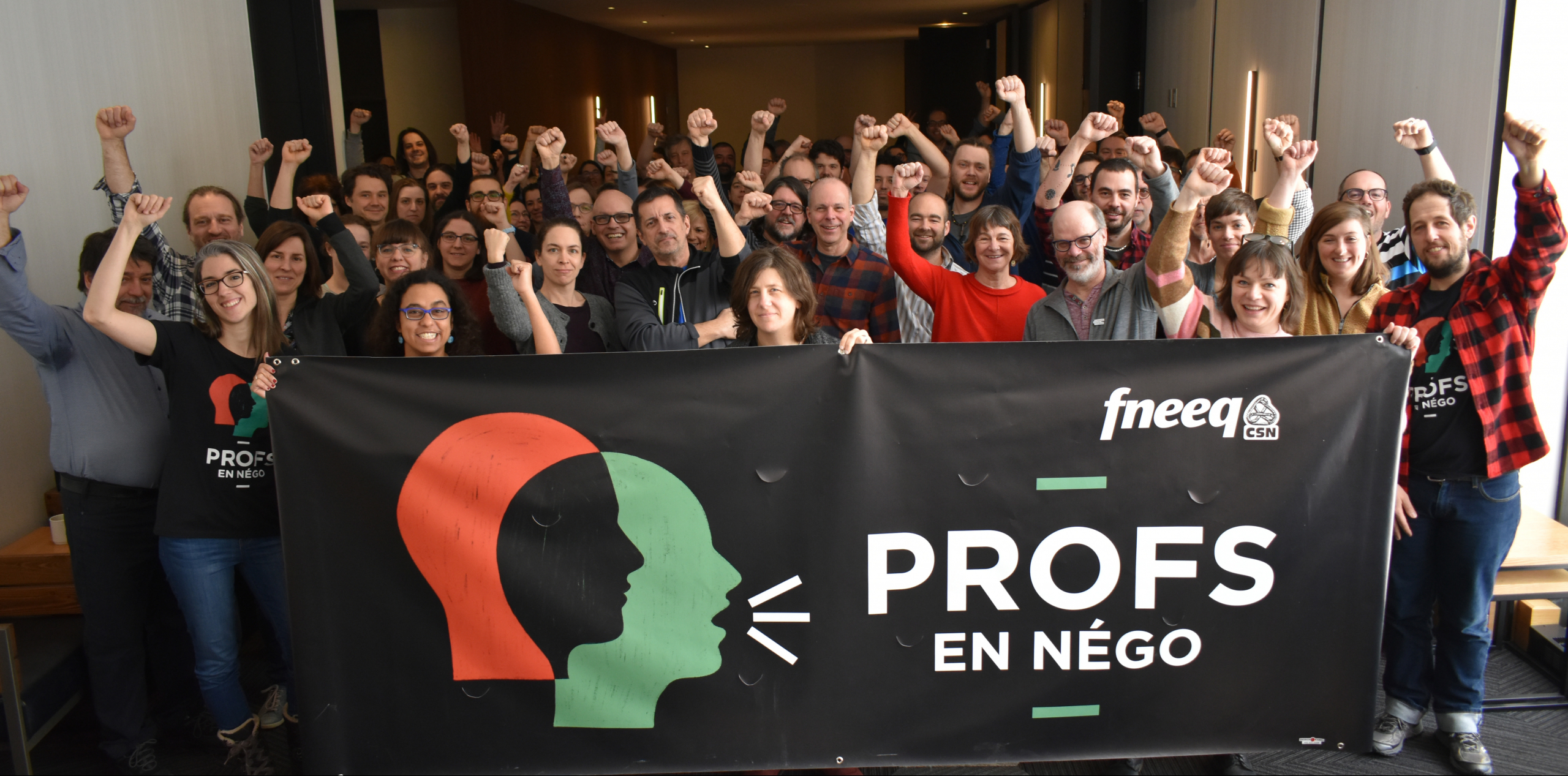 Le regroupement cégep réunit les délégué-es des 45 syndicats membres de la FNEEQ-CSN. Cette instance représente 85 % des enseignantes et enseignants du réseau collégial. Sur cette photo, le regroupement cégep des 27 et 28 février 2020 à Québec.
From suspending talks, to bargaining…
Starting on March 15, 2020, just a few days after the Premier of Quebec declared a state of emergency, the representatives of the Treasury Council (le Conseil du trésor) repeatedly indicated to the union centrals their wish to accelerate bargaining with a view to quickly reaching a settlement of the public sector's collective agreements.
In response to this proposal, we called for an 18-month suspension of bargaining accompanied by the immediate implementation of a series of measures—including salary adjustments, bonuses, and protective measures—so that we could focus our collective efforts on the crisis and resume negotiations only when Quebec were to return to normal. (You can consult all the updates published by the CSN concerning this situation at www.secteurpublic.quebec.) We also saw in this suspension the means to quickly resume discussing sectoral matters, since bargaining would not have been concluded but simply put on pause.
The past few weeks have brought about a significant change in the situation. The government has remained unresponsive to our repeated requests for a suspension. Furthermore, and despite the crisis, they have continued to exert pressure in favor of accelerated bargaining. Most union centrals have opted to submit to this logic. The movement's willingness to negotiate now seems motivated by the state of emergency's indefinite duration and our society's uncertain economic future, despite the complex conditions we face—particularly those concerning union democracy.
It was in accounting for this evolving situation that on April 30th the FNEEQ-CSN's regroupement cégep, a body uniting the representatives of 45 CEGEP teachers' unions, mandated your bargaining and mobilization committee to pursue talks despite the health crisis. This resolution applies as much to central table as to sectoral table bargaining. It's important to note that there has been no formal bargaining at either of the CEGEP teachers' tables since the start of the crisis, regardless of the union organization representing them.
On May 6th, in view of being ready in case discussions at the central table pick up speed, the delegates of the regroupement instructed your bargaining and mobilization committee to prioritize our sectoral demands. These priority demands will be submitted to the regroupement for consultation on May 11th. Note that there have been no bargaining sessions at the sectoral table since the CEGEPs closed their doors.
Even if, in our opinion, the current crisis is a far from ideal context for bargaining—the conditions for consulting our general assemblies are suboptimal, and the ban on public assembly makes mobilizing a significant challenge—we believe that it's preferable to demand improvements to the working conditions of CEGEP teachers at the table than to leave it altogether. Starting next week, we will keep you apprised of the status of our sectoral prioritization. The CSN also regularly publishes information concerning the central table on the website we linked to above.
Consulting during a state of emergency
A new order came down on April 26th. The government has published a ministerial decree allowing remote voting by general assemblies. This decree does not target the union movement specifically, but all organizations which must hold assemblies according to the law. For this reason, the FNEEQ has been developing a guide for union executive committees. Its aim is to help them determine whether a remote general assembly with decision-making power is feasible. This guide will be made available shortly and will include suggestions concerning procedures for organizing and holding such an assembly. Unions that can do so will thus be able to hold meetings and obtain mandates from their members, particularly in the context of the current round of bargaining.
Your bargaining and mobilization committee 
Joignez le groupe Facebook de la négociation !
Pour être au courant des derniers développements de la négociation, échanger avec des collègues ou nous partager vos activités de mobilisation.