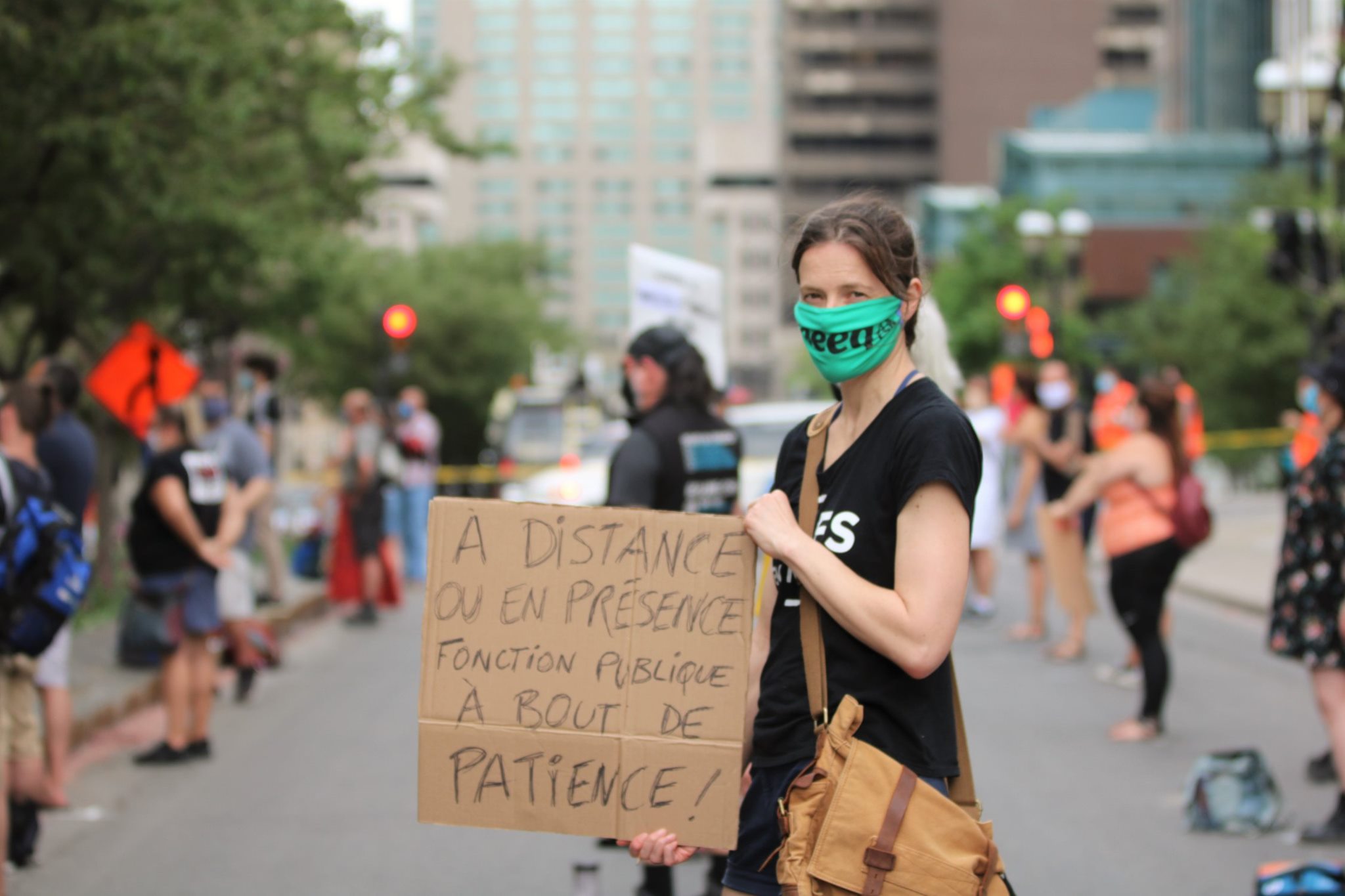 Les profs en négo ont participé au rassemblement du secteur public (en respectant les mesures de distanciations sociales) le 28 mai dernier. M. Legault, n'attendons pas la prochaine crise, investissons dans nos services publics !
Prioritizing Our Demands
As mentioned in Info-Nego #5, recent changes to the bargaining context led the FNEEQ–CSN's regroupement cégep to give our bargaining and mobilization committee the mandate to prioritize our sectoral demands.
This strategic choice was justified by the fact that, given the increasingly limited window for bargaining, we did not want to find ourselves at the table without a set of collectively sanctioned priorities. Although letting go of legitimate demands can be agonizing, it can also serve to shore up our position at the bargaining table. We should applaud ourselves for taking on this challenge together, both in our general assemblies and at the regroupement cégep level. 
With a view to being ready for future meetings with the employer, representatives from the 45 FNEEQ–CSN unions adopted the prioritized list of demands on May 21st.
In parallel, the FNEEQ–CSN has been hard at work with the Ministry of Education and Higher Education discussing parameters for the return to school in fall 2020, while also attempting to secure the additional resources made necessary by the current situation.
Improving our teaching conditions
The criteria guiding our choices were, primarily: our degree of progress in analyzing various issues thus far, the urgency of solving specific problems, and the injustice currently visited upon thousands of our teachers. It was important for us to produce a prioritized yet balanced list. Our demands relate to each category identified in our first submission: work organization, consolidation of the network, the teaching load and its distribution, professional autonomy, job insecurity, Continuing Education, and remuneration.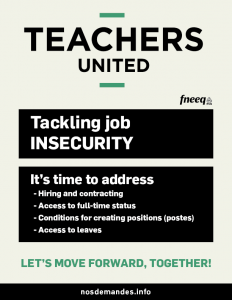 We are no longer willing to tolerate the unfair wages and working conditions of our Continuing Education teachers. We need to improve working conditions for our precariously employed teachers, particularly where contracting and access to leaves are concerned. It's imperative that we include provisions in our collective agreement for distance education and the recognition of acquired competencies (RAC). We've also maintained demands related to students with disabilities, resources for coordination, strengthening the voice of teachers in decision-making processes, and our academic freedom and freedom of expression, among others.
Given the current state of discussions, the collective agreement is expected to have a term of three years instead of five—a first in quite some time. This influenced our collective reflection: a shorter term would allow us to return to the bargaining table on other subjects more quickly than usual.
Parity committees
As we've done in the past, we're proposing to work in tandem with the employer on various parity committee mandates—in particular, to inject targeted resources during the term of the collective agreement.
For the health and medical technologies sector, for example, we propose to start from the issues identified by teachers in nursing and other health-related technical programs to quickly put in place sustainable solutions while injecting the necessary resources. We also propose to mandate a committee to address the chronic underfunding of certain CEGEPs and resolve this issue during the term of the collective agreement with additional resources.
Likewise, we're demanding the establishment of a new parity committee on job security and insecurity. Its work should allow us to enter the next round of bargaining with concrete solutions and solid arguments to significantly improve the working conditions of non-permanent teachers.
Coming together for a satisfactory resolution
Even though we have prioritized certain demands, we still need the strength to convince the employer of their legitimacy. As we've done before, we'll need to demonstrate that we are assiduously mobilized behind our demands. We will need to be original and adapt to the exceptional circumstances brought on by this pandemic to improve working conditions for all teachers. The challenge is daunting. But we will face it together.
Joignez le groupe Facebook de la négociation !
Pour être au courant des derniers développements de la négociation, échanger avec des collègues ou nous partager vos activités de mobilisation.