FNEEQ-CSN – Info-Négo #7 – Summer break
Summer Break: Sectoral Bargaining Progresses, But Funds Are Lacking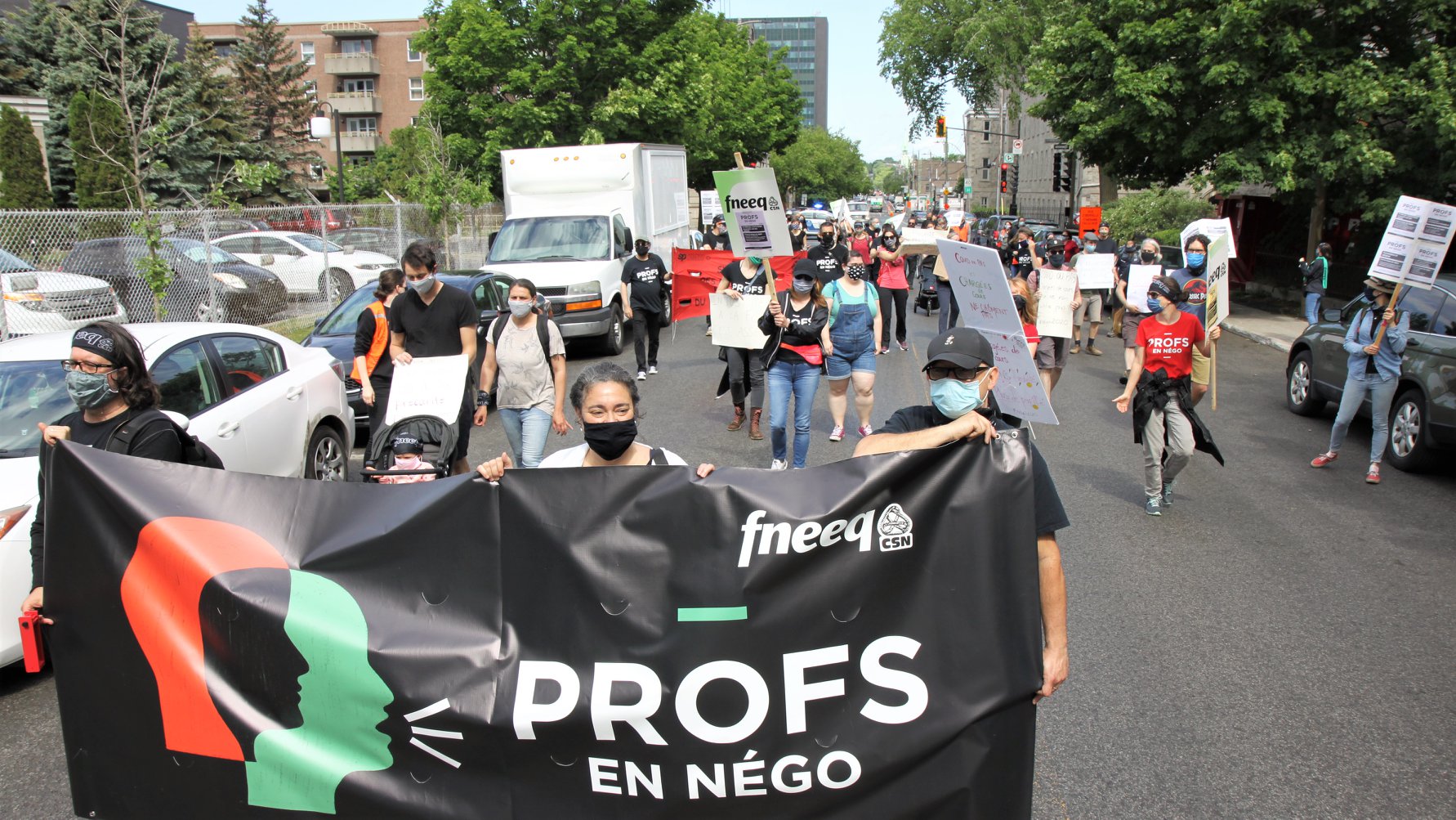 Demonstration in front of the Ministère de l'Éducation about improving working conditions for continuing education teachers.
Summer Break: Sectoral Bargaining Progresses, But Funds Are Lacking
May and June were busy! First, we prioritized our sectoral demands (see previous Info-Nego). This allowed us to enter into ongoing negotiations with the Comité patronal de négociation des collèges (CPNC).
As soon as we tabled our list of prioritized demands, we could see that the employer side also wished to engage in serious discussions because it very quickly presented a scaled-down version of its own list.
We engaged in bargaining in this ongoing manner until June 30, 2020. Although discussions progressed on various issues, we told the CPNC that we would not be able to reach an agreement until the Conseil du trésor provides additional funds to improve our working conditions, particularly for continuing education teachers. For the moment, there is only $4.6 million on the table, half of which is non-recurring, i.e. fewer than 30 recurring full-time equivalents (FTEs) for the 45 member unions of FNEEQ–CSN. As you can imagine, this is clearly not enough.
Sudden cabinet shuffle
By his own admission, Quebec Premier François Legault was anxious to complete public sector bargaining and decided to carry out a major cabinet shuffle. The two ministries involved in our round of bargaining, the Secrétariat du Conseil du trésor and the Ministère de l'Enseignement supérieur, are now led by new ministers. These political changes lead us to believe that we will need to wait some time until our counterparts on the employer side have new mandates to continue the productive discussions we had begun.
In this context, we have agreed with the employer side to take a break over the summer. We are ready to return to the table with 24 hours' notice if the Conseil du trésor agrees to provide a significant amount of additional funds.
Request for mediation
While we have made gains at the sectoral table, the strategy committee has concluded that it would be appropriate for us to request mediation.
Mediation is a step that allows for removing the legal constraints related to obtaining the right to strike. Provided in the legislation that governs bargaining, mediation is an essential process through which the balance of power shifts in our favour. If, during the fall, we need to use stronger pressure tactics, or even go on strike, we will at least have already dealt with this technical aspect.
We feel that the request for mediation sends a clear message to the employer side: FNEEQ is fully committed to taking part in this round of bargaining and is using all methods at its disposal to ensure that bargaining progresses. In this regard, the return to the table in August will be critical.
On that note, your bargaining and mobilization committee wishes you a wonderful summer!
Joignez le groupe Facebook de la négociation !
Pour être au courant des derniers développements de la négociation, échanger avec des collègues ou nous partager vos activités de mobilisation.