Our Round of Bargaining, Our Collective Strength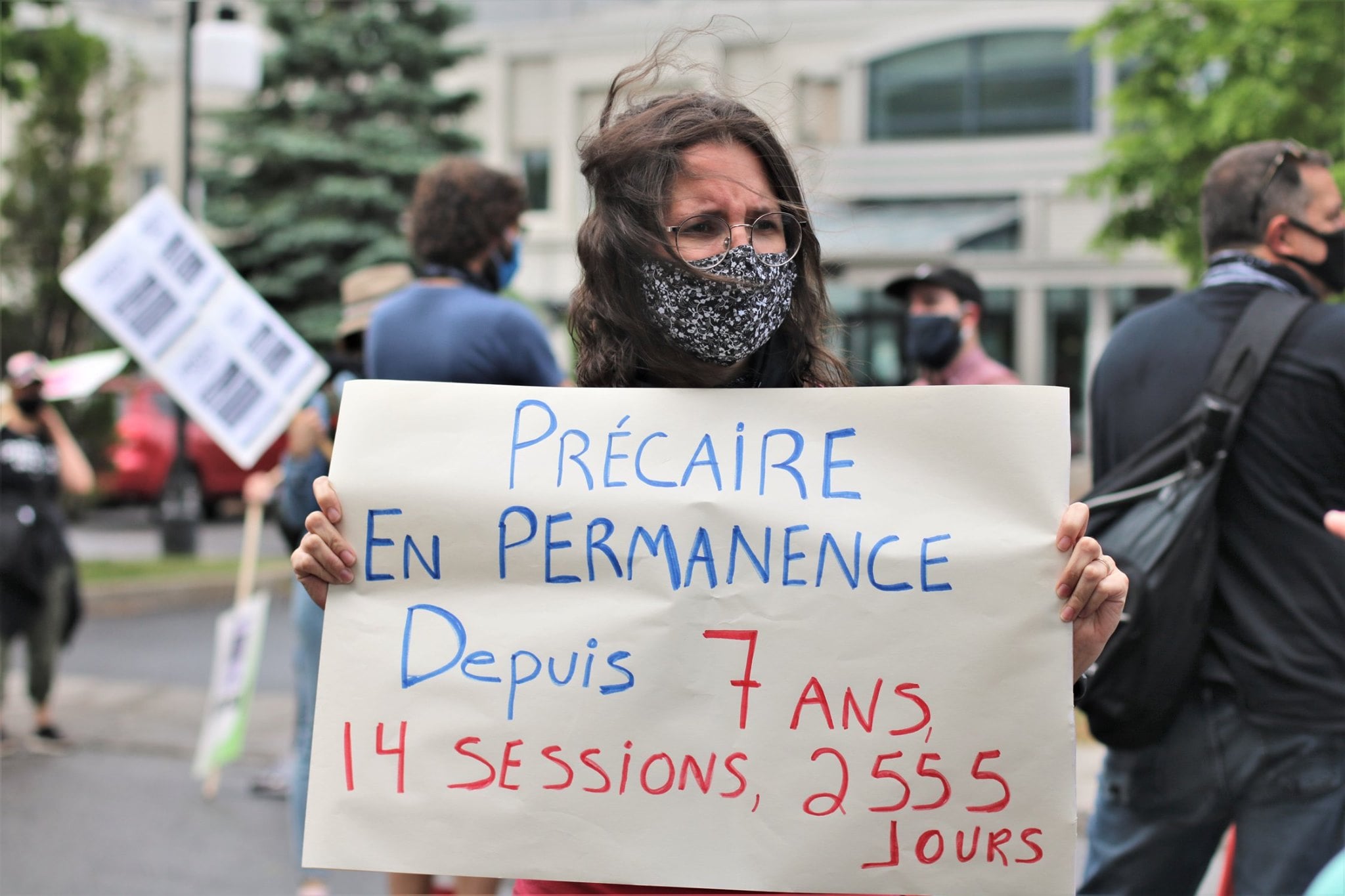 Resilience 101
This start of semester has been one of the most unique and d­emanding in our network's history. Across Quebec, we have been dutiful in carrying out our mandate and our mission despite the many constraints and challenges.
We can all be proud of our resilience and devotion. Although the pandemic has led to major changes to our profession, we are still resolute: bargaining for our collective agreement—a document which enshrines the efforts of generations of our peers—must remain a priority.
But we are not in need of a simple pat on the back, and we are allowed to demand better: for our students, for ourselves as teachers, and for the future of our network, suffering as it does from a startling lack of support and resources.
Moreover, improving the working conditions of our most precariously employed members—in particular, our Continuing Education teachers—is one of the main goals guiding our discussions at the bargaining table. The stakes are high and our objective remains unchanged: the government must act to ensure the sustainability of the CEGEP network.
What Our Network Represents
Does the government need to be reminded that the CEGEP network is one of Quebec's finest sociocultural and economic institutions? Has it lost sight of the role CEGEPs play in educating citizens who contribute, generation after generation, to the development of a pluralistic and engaged society equipped to handle its own challenges?
Has it forgotten the contribution of a network that spans the province, established in both major urban centres and rural areas?
The government must rediscover how to see our network for its social and humanistic import. This is our challenge in the current round of bargaining.
We are currently negotiating the recognition of our profession—the recognition of its value. Beyond the facts and figures, we are negotiating a genuine long-term commitment to one of Quebec's most prominent successes in education: our CEGEP network.
A Review of Some Key Elements
The pandemic has profoundly shaped the course of the current round of bargaining, and we suspect that the government has used it as an excuse to disengage from the pressing issues we have raised.
Work overload brought on by practicing our profession during a pandemic, as well as the mobilization challenges posed by compliance with public health directives, seem to have convinced the government that our reality can be put on the back burner. Our responsibility is to tell the government loudly and clearly that this is the wrong track. What's on the table today is a far cry from meeting our needs. We must unite our voices to be heard.
A Lack of Commitment

, in Numbers
While the allocation of resources to support and improve the working conditions of our profession is at the heart of this round of bargaining, the employer's response has been disappointing, and ultimately disconnected from reality.
$4.6 million—This is the amount currently being offered to us to improve our working conditions.
50% of this amount is non-recurring, a concrete sign of non-commitment to our network.
This amount represents fewer than 30 full-time equivalents (FTEs) for the 45 member unions of the FNEEQ–CSN's regroupement cégep.
Are We Bargaining Alone?
The situation is fragile and calls on us to join our voices and redouble our efforts to make our demands heard. Since the start of this round of bargaining we have been diligently working in good faith to guarantee the future of our network. We submitted a list of prioritized demands at the sectoral table and a counterproposal at the central table. We, CEGEP teachers, are clearly taking bargaining seriously and giving it the attention it deserves. Under these circumstances, the alternating silence and timorous responses from the government must give way to a real dialogue that makes sustainability of the CEGEP network its focus.
Mobilization and Information During a Pandemic
We conclude with some information about our action plan for the fall. This is not an easy time, and we are aware of the immensity of the task of teaching during a pandemic. We have therefore opted for a gradual resumption of actions relating to mobilization and information, considering that the vast majority of you are not in your usual workplaces.
Over the next few weeks, we will fill you in on various initiatives designed to account for this new reality but focused on recentring this round of bargaining on our priorities. You can already add to our visibility by proudly wearing the "Teachers united" tube scarf in your CEGEP or on screen!
Your bargaining and mobilization committee
A Brief History of Our Negotiation
Click on the links for more information
The bargaining and mobilization committee tours the CEGEPs (link)
Consultation and adoption of our first bargaining table submission (link)
Mobilization for the simultaneous submission of demands (link)
First submission at the bargaining table (link)
First submission of employer's offers and start of bargaining talks (link)
Consultation and adoption of demands in multiple rounds
COVID-19
Unions request suspension of bargaining talks
Resumption of bargaining talks in May (link)

Prioritization of sectoral demands (link)
Submission of our prioritized list of demands
Attempt at a quick resolution, cessation of discussions in June, and request for mediation (link)
September 18: sectoral table bargaining resumes
Joignez le groupe Facebook de la négociation !
Pour être au courant des derniers développements de la négociation, échanger avec des collègues ou nous partager vos activités de mobilisation.