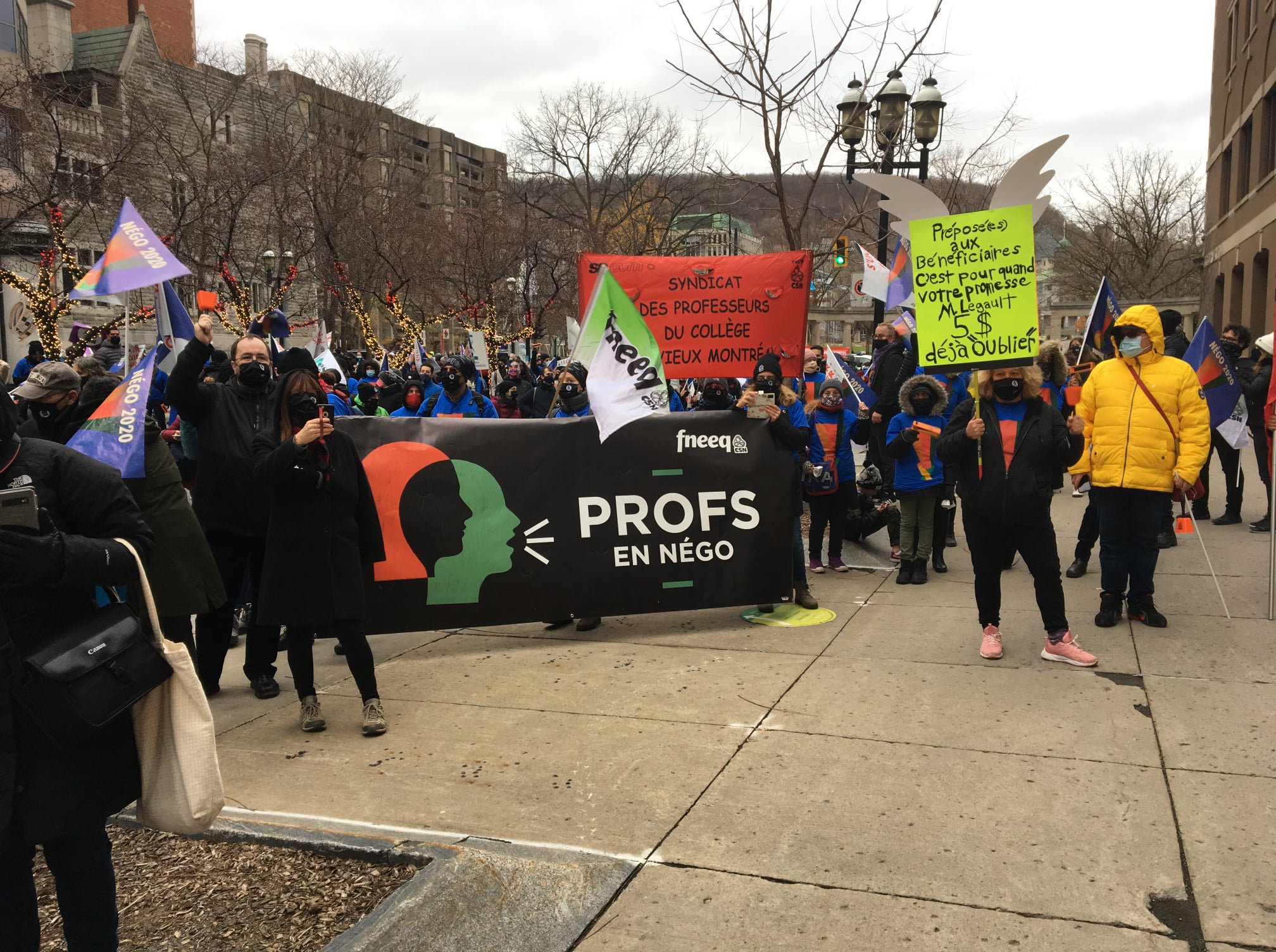 Manifestation nationale, 14 novembre
What a fall semester! The last three months have been demanding, to say the least; we've faced several challenges along the way. We want to take this opportunity to acknowledge once again the exceptional work you've accomplished. More than ever, our commitment to our work should be duly recognized.
In the previous Info-Nego (#8), we were concerned about the lack of progress in negotiations. This situation has since improved somewhat at the sectoral table. While we still want more frequent meetings, and although there are insufficient resources on the table, we can confirm that there is now a better bargaining dynamic at play. We are staying the course and working toward an agreement that meets our objectives.
After several exploratory meetings and talks, we are preparing to adjust our demand on working conditions in Continuing Education as part of a new union submission (DS-5). We are asking that any teacher concerned be fairly remunerated, in accordance with the CI value of their workload, as soon as they reach a certain threshold in the number of hours taught at the college. In addition, we are asking that the hourly rate be increased for those who will not qualify, specifically in order to recognize the student support (encadrement) they provide. You are invited to contact your executive committee for more details.
Ramping up negotiations?
Your bargaining and mobilization committee has remained very active and available to encourage a sustained pace at the table. After more than a year of talks, we can say with confidence that we have demonstrated both patience and good faith. We feel the employer no longer has the luxury of time on their side. They must respond to our demands and foster a settlement in the near term. We are willing to do the work, but the Comité patronal de négociation des collèges (CPNC) also has to take its job seriously.
Recently, there have been indications the government is willing to speed up the bargaining process. We hope that is indeed the case, but this wouldn't be the first time it has signaled as much only to fail on the follow-through. However, nothing can be taken for granted: we have the collective responsibility to carry on working on our visibility, our mobilization, and our bargaining effort. We cannot allow the government to use the COVID-19 crisis as an excuse to halt negotiations or put them on the back burner.
Be ready for anything
With all this in mind, we held a day of reflection on strike action during a recent meeting of the regroupement cégep, following a recommendation laid out in the 2015 Bargaining Post-Mortem. The exchanges were constructive, and the quality of the discussion allowed us to achieve a common understanding of the issues related to this pressure tactic. Participants sought to understand and evaluate different kinds of strike (rotating, by region, by sector, etc.), the best moment to initiate one, the possibility of different alliances, and above all how to effect a walk-out in a distance-learning context.
Since we may be called upon to vote on strike action during the current round of bargaining, we invite you to conduct this exercise locally, too. If we do eventually conclude that a strike is necessary, such discussions will have afforded everyone the chance to understand its scope, its value, and the issues related to it. Our strength is first and foremost collective, so let's collectively prepare for everything!
It's important to note that health care workers' unions cannot exercise their right to strike until they have completed their work assessing the scope of essential services.
Mobilization in the time… of COVID-19
Things haven't been easy, and everyone is expending considerable energy. Mobilization in this environment is constantly challenging, and we understand how demanding it can be. This is why we would like to highlight your participation in all sorts of actions these last few weeks (the Enough is enough! campaign, the November 14th demonstration, wearing a 'nego-tee' every Thursday, banner drops, etc.). Your participation is making all the difference; we can confirm it is changing the game at the bargaining table. We haven't reached the finish line yet. Another collective push and—no concessions!
Your bargaining and mobilization committee
Joignez le groupe Facebook de la négociation !
Pour être au courant des derniers développements de la négociation, échanger avec des collègues ou nous partager vos activités de mobilisation.